5 Ways to Use Mesquite BBQ Sauce that Will Leave You Hungry for More
This blog will let you experience a flavor-filled journey, exploring five imaginative ways to integrate mesquite BBQ sauce into your cooking creations.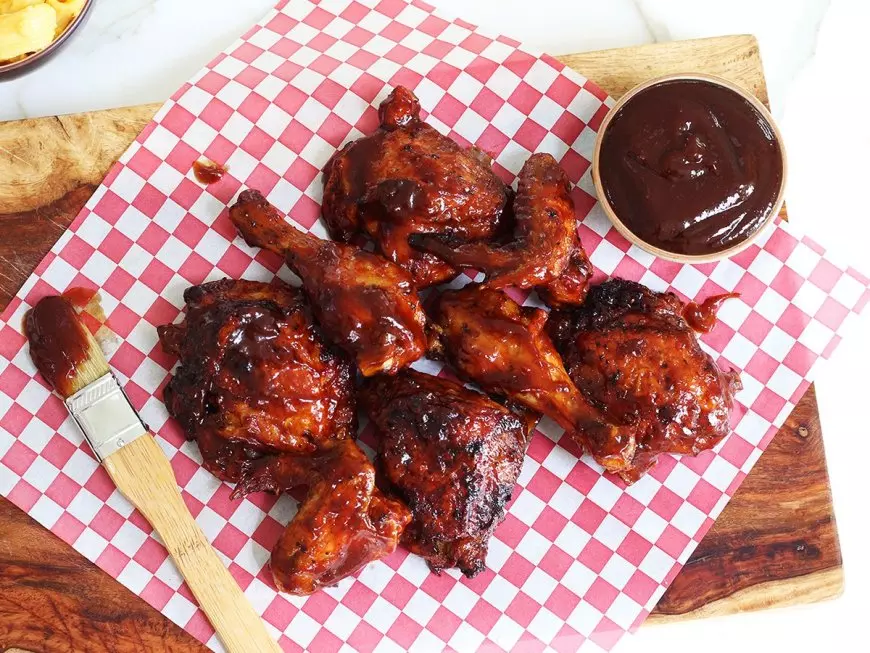 Mesquite BBQ sauce, with its bold, earthy, and slightly sweet flavors, is like a secret weapon for transforming your grilled and smoked meats into mouthwatering, finger-lickin' delights. But don't be fooled into thinking its charm ends there. Mesquite sauce is a culinary chameleon, capable of elevating a wide range of dishes to a whole new level of deliciousness.
This blog will let you experience a flavor-filled journey, exploring five imaginative ways to integrate mesquite BBQ sauce into your cooking creations. These recipes are not only scrumptious but also incredibly simple, making them suitable for anyone, from budding chefs to seasoned food enthusiasts.
So, grab your apron and prepare to be amazed by the endless possibilities that this delicious sauce brings to your kitchen. Let's dive in and discover how to add a dash of mesquite magic to your everyday cooking!
Understand the Allure of Mesquite
Before diving into usage ideas, let's understand what makes mesquite BBQ sauce so special. Mesquite smoke yields an incredibly deep, woodsy flavor profile. That's because the mesquite tree evolved to produce potent compounds that deter dry climate pests. When burned, those same bitter compounds infuse foods with earthy depth. Mesquite BBQ sauce balances sweet and tangy notes like molasses, tomato, and vinegar with mesquite's signature smokiness. The result is a BBQ sauce like no other.
Baste Meaty Goodness
Slathering mesquite BBQ sauce on hearty meats as a baste or glaze during grilling is the classic usage. The sweet molasses caramelizes, forming an irresistible crust. Baste the sauce on brisket, ribs, chicken, or pork shoulder in the last 5-10 minutes of grilling. The thick, clingy texture ensures it sticks nicely to meat instead of dripping off. You get tons of flavor in every bite!
Lend Smoky Depth to Sauces and Dips
You can incorporate mesquite sauce into a variety of other sauces, dips, and condiments beyond traditional BBQ sauce. Blend it into meaty chili, hearty bean dips, and cheese sauces for an extra layer of smoky flavor. Mix a spoonful into poultry gravies or breakfast sausage gravy for a savory twist. Stir a few tablespoons into burger sauce for backyard barbecue flavor. Get creative with recipes!
Wake Up Veggies
Don't reserve mesquite sauce just for meat. Drizzle a dash or two over grilled vegetables like corn, zucchini, mushrooms, onions, and carrots during the last few minutes of cooking. You'll amp up the flavor without overpowering its natural essence. Toss wilted spinach, kale, or chard in mesquite dressing. Or blend it into hummus or bean dip for a veggie twist.
Punch Up Leftovers
Leftover pulled pork or chicken feeling bland? Inject some flavor of the original summer sausages! Heat shredded meat in a skillet with a few splashes of mesquite sauce to moisten and give it a second life. Toss cubed grilled meats with mesquite BBQ sauce and serve over greens for a hearty salad. Or throw some into fried rice or pasta dishes for a flavor pop. Mesquite sauce rescues boring leftovers.
Craft Cocktails
You read that right - mesquite sauce shines in drinks, too. Add 2-3 tablespoons to a spicy Bloody Mary for a smoky twist. Blend it into margaritas or Micheladas for an earthy touch. Or simply drizzle over an ice-cold beer as a shot. Get the party started with mesquite sauce cocktails!
Not all bottled mesquite sauces are created equal. Here is what to look for on labels:
Contains actual mesquite-smoked flavors, not just liquid smoke.

Sweetened only with natural sugars like molasses or honey.

Free of preservatives, additives, and artificial ingredients.

Uses high-quality ingredients like tomatoes, vinegar, garlic, and spices.

From a brand specializing in smokehouse BBQ sauces.

Free of corn syrup, xanthan gum, MSG, and fillers.
With an authentic mesquite BBQ sauce made meticulously from quality ingredients, you'll taste the mesquite difference in every recipe.
Make Your Own Mesquite Magic
For the ultimate freshness and customization, consider crafting your own homemade mesquite BBQ sauce.
Ingredients:
Tomato paste

Cider vinegar

Molasses or brown sugar

Garlic, onions, spices

Liquid smoke

Water to thin
Method:
Sauté aromatics like garlic and onion.

Add tomato paste and vinegar. Simmer.

Mix in molasses, spices, and liquid smoke.

Purée or blend to desired texture.

Finish with water or stock to thin.

Adjust sweet/savory balance.

Bottle and refrigerate.
Then, baste away on meats or incorporate them into recipes for personalized mesquite magic.
Safety Tips
When handling and cooking with mesquite BBQ sauce, keep these safety tips in mind:
Refrigerate after opening to prevent bacterial growth.

Bring sauce to a boil when reheating.

Wash hands and surfaces after contact with raw meat juices.

Cook meat and poultry thoroughly to safe internal temperatures.

Discard sauce exposed to raw meat after cooking.

Watch for burns when grilling - syrups retain high heat.
With care and caution, you'll safely enjoy mesquite sauce and impress tastebuds!
Tantalize Tastebuds with Meyer's Original Summer Sausages
For viscous authentic mesquite BBQ sauce handcrafted in small batches from high-quality ingredients, look no further than the legends at Meyer's Elgin Smokehouse. They meticulously smoke tomatoes and spices over mesquite coals to infuse each drop with incredible depth of flavor. Drizzle their mesquite original or sweet mesquite sauce varieties on meats or stir into recipes for the real deal.
With these tips and techniques, unlocking the magic of mesquite BBQ sauce is easy. Now grab a bottle and get saucy! Your tastebuds and home cook skills will thank you.
What's Your Reaction?